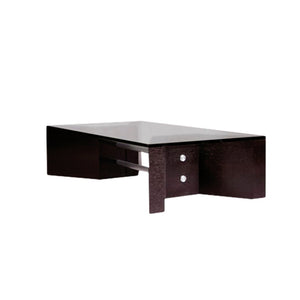 Description
Two geometrically shaped wood bases are connected by aluminum rods in brushed and lacquered finish with a TH glass top.
Wood frame in standard satin or the semi-gloss Riff cut Oak and Ash, Mahogany, or Maple.
Aluminum rods are available in a standard painted finish, a brushed lacquered aluminum, or Nickel-plated.

Dimensions
55" W x 31" D x 14-3/4" OAH
Custom Options
Wood: Mahogany, Maple, Oak, and Ash
Metal: Nickle-plated, Brushed or lacquered Aluminum, and standard paint finish
Shipping Options
8-10 weeks